ABOUT US


Our company is based on the belief that our customers' needs are of the upmost importance. Our entire team is committed to meeting those needs. As a result, a high percentage of our business is from repeat customers and referrals. We would welcome the opportunity to earn your trust and deliver you the best service in the industry. We have a team that specializes in making the dream of homeowners come
true. We listen and help develop budgets and plans and schedules based on the needs of our clients. This helps to make the process less stressfull for all!!! Please contact us for a list of referrals

We also have a team that has worked on various institutional and commercial projects. We have done Projects for the DC Govt., Churches, Condo associations as well as property managers. We take pride in using the latest technology to make sure that we are communicating to all Stakeholders and keeping our projects moving smoothly and on budget!!!

Proud Member of NARI Metro DC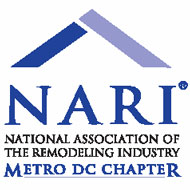 Why you want your remodeler to be a NARI member?

When you hire a residential home improvement contractor, you¹re handing over the keys to a sacred space your home. You trust your contractor to enhance your surroundings and enjoyment of your largest asset. You also rely on their solid knowledge of building techniques, design trends and best practices. Shouldn¹t the contractors you invite into your home be the best —over and above the minimum requirements of being licensed, bonded and insured?

We are members of the National Association for the Remodeling Industry (NARI) because NARI members represent a segment of the remodeling industry that is working hard to raise the bar, both for their own work and the remodeling industry as a whole. Before being accepted into the NARI Metro DC chapter, contractor members must be working in the remodeling industry for at least one year and pass a thorough background check and ethics review. And once they become members, they are held accountable to ethical standards by a member-run review board.

Hiring a NARI Metro DC member assures you that you have an experienced firm committed to high quality and ethical practices. Additionally, NARI provides opportunities for members to continually elevate their already high standards, with local educational programming for all levels of employees, and support for employees to become Certified Remodelers, through a nationally accredited certification program. The Certifications
include specialties for kitchen and bath remodelers, lead carpenters, and green certified professionals.

We are proud members of NARI because we are proud of our profession, we are proud of the work we do as remodelers, and we want to
set ourselves apart from the contractors who are just out there to make a buck at the expense of their clients. It really means something when you
hire a NARI remodeler.
---